Testimonial from Debbie
Thank you Fran & Rich for taking such great care of Libby since she was a puppy!
There was never a time when I had to worry about her while I was away.
She is always excited and so happy when she is going to see Tess and friends.
Home of Bed and Biscuit is really like her 2nd home and it is more fun because she has all her friends to play with.

As Libby has gotten older she has had some medical issues and it has never been a problem with you taking care of her. In fact, she would come home healthier after she stayed with you. It takes Libby about 2 days to rest up from her vacation! We travel quite a ways for Libby to spend time with you and it is worth every mile!

I do recommend Home of Bed and Biscuit to anyone who wants their dog to have a vacation while they are away! No cages, freedom to run and Fran & Rich who is always loving, hugging and caring for them.

Thanks Fran & Rich for everything!!!
Debbie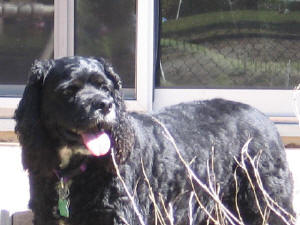 ---
Testimonial from Bridgett
I have been taking my boys, Blinky and Tucker, to Bed and Biscuit for daycare for about a month. It is such a relief to have found a loving, home environment for them to stay at all day while I am at work or away.

Fran and Rich have graciously accommodated my work schedule and allow me to drop off both dogs in the morning before work.
They take pictures and videos of the boys so I can see how much fun they have and even email me with updates if I ask.

Blinky and Tucker cannot wait to get there in the morning, enjoy running around with all the dogs both inside and outside all day long, and come home completely exhausted.

Because Tucker and Blinky have grown so fond of Bed and Biscuit, I will feel completely comfortable leaving them there to take a vacation and feel confident that they will be happy the entire time.

Bridgett
---
Testimonial of Paula
I would like to thank Fran and Rich for opening their home for our Sassy and for many other lucky dogs. If more people would open their homes like Fran and Rich, we would be able to get our dogs out of cages..
As Sassy got older, it was obvious she no longer wanted to be left at home alone, even though we had a neighbor that loved her so very much and walked her and fed her. She was lonely at night. It got to the point that I didn't want to go out of town without her.
While I was searching for a home, I was blessed to find the Home of Bed and Biscuit and will always be grateful. She was in their care on her last visit and became ill. They went the extra mile while caring for our sweet Sassy.
I would gladly refer Fran and Rich to anyone looking for a caring home away from home for their loved pets!! Thank you again.
Paula Everton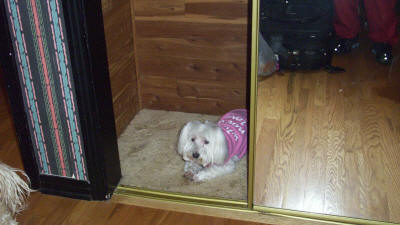 ---
Testimonial of Meg & Jeff
We have been bringing our English Bulldog Oddo to Bed and Biscuit for over 2 years. He was just a baby the first time we left him with Fran & Rich but he jumped right in with the other dogs and had a ball.

Fran & Rich spoil him almost as much as we do Ė they have even been known to sleep with him! He has met some great buddies on his vacations at Bed & Biscuit and we are always provided some great photos to see how he spent his time away from us.

We highly recommend this loving environment to anyone who has to leave their dog behind when traveling.

Meg & Jeff Powers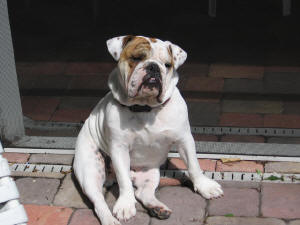 ---
Testimonial of Suzanna
I've been bringing my dog Disney to Home of Bed and Biscuit for three years.
When I first moved to Tampa I needed to find a good place to bring my girl while traveling for work. Unfortunately, I travel a lot...but fortunately I found Home of Bed and Biscuit!!!
Fran and Rich treat Disney like she is there own. They are loving and I feel confident going on my work trips that she is in the best of hands! She gets so excited to go visit her "friends"!
I would recommend Home of Bed and Biscuit to anyone looking for a loving, well run, clean and caring place for their pet while they are away. It is worth every cent to know she is well taken care of.
Suzanna,
Riverview, FL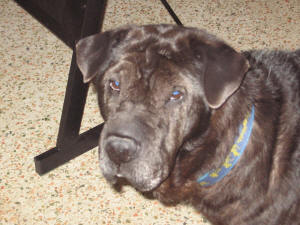 ---
Testimonial of Lacy Greenacre
Hi, my name is Lacy and Iím a 4 Ĺ yr. old beautiful boxer girl and I want to tell everyone about my home away from home at Bed and Biscuit!

My mom and dad found out about B & B a few years ago and took me over there for an interview. Fran and Rich Cooperwasser (the proprietors of B&B) wanted to know if I would get along and play with the other furry borders, and you know what? I got along with everyone and LOVED being there Ė I could hardly wait till I got to be there for the sleep over's my Mom had been telling me about.
The Cooperwassers are so nice and I can tell they really love me and all the other dogs too. I get to sleep wherever I want (except their bedroom), play all day outside and inside, and if Iím lucky I get to be there when they have some of their people friends over because I get double attention then!
I get so excited and happy when Mom drives me there that I start wagging all over the car when we turn the corner on their street. I thank my wagging tail everyday that I get to be at Bed and Biscuit when Mom and Dad are out of town!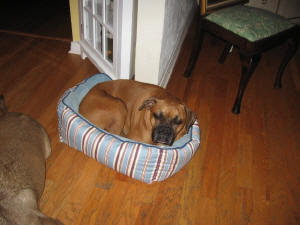 ---
Testimonial of Donna and Jeff Greenacre
We canít thank Fran and Rich enough for taking such great care of our little boxer girl. They truly love each and every dog that comes to stay with them and they are so conscientious about each ones needs.
The house and yard are always clean and itís quite obvious that Lacy loves being there. She doesnít even look back at me once she gets out of the car Ė she just heads straight for the gate as she knows sheís going to have a great vacation at B & B!
Thanks Fran and Rich for everything!
---
Testimonial of Alison Barrick
We boarded our 8-month old Potcake pup Katy with the Cooperwassers for the very first time in September, 2009. Katy is very energetic and we knew that leaving her at a kennel where she would stay in a crate the entire time was just not an option.
From our initial visit to a phone call while we were away, I was impressed with Fran & Richís attentiveness and their concern for Katyís wellbeing.
Best of all, Katy was exhausted for two days after we picked her up because she had played so much with all of the other dogs!
Rich even showed us some video footage he had taken of her playing to show us how well she interacted with others.
I would highly recommend The Home of Bed and Biscuit to anyone who wants their dog to have a vacation too!